15 Celebrities sending supportive messages to Mauna Kea Hawaii 2019
What do Aquaman, the Rock, Damien Marley, J.Cole, and Jack Jackson all have in common? ...Their support for Mauna Kea.
Native Hawaiian's have occupied the road to Mauna Kea's summit for the past 17 days in an effort to halt construction on the Thirty Meter Telescope also known as TMT. A project set to begin construction on Sacred Hawaiian land. Looking past the negativity, many celebrities have spoken out in support.
Below is a list of celebrities spreading the MAUNA. (As it grow's we'll update the list).
July 31, 2019: Jason Mamoa
Jason Momoa stepped out at 12:30 to speak about the
Telescope Protests
at
Mauna Kea
, Big Island of Hawaii.  "This is at the forefront of my life. I tried to do everthing to spread these moments around the world for everyone that loves our lands to the far off reaches of the world to show what is going on here.  I just want want to say that I'm thankful to the protectors and the stewards of this land, and we are not going anywhere. I am not going anywhere. " Mamoa said July 31, 2019.
July 29, 2019: Damien Marley 
Dwayne "The Rock" Johnson
Dwayne Johnson recently appeared on Jimmy Fallon's the Tonight show
"When you have humans hurting any where around the world, lets stop, be considerate, let's be empathetic, and let's take care of our people. at the end of that it comes to taking care of the people. "
"Sure so, what's happening in Hawaii right now. There are protestors on the Big Island in Hilo, and there's a mountain Mauna Kea.  And Mauna Kea, some of you may know this is a Sacred place to native Hawaiians. And there is a Telecope to be built there that's 18 stories, eventually it will be the size of a football stadium and the issue that the native Hawaiians have is that it is sacred land. That there is a trust that was breached to build the telescope. and what I wanted to do was get my boots on the ground, and go there personally because I grew up in Hawaii. And I know what it feels like to have that sacred land. It was really a beautiful experience it was so inspiring, because you have men and women and small children (Kapuna) who aren't leaving who are so steadfast and passionate about this land, about the sacredness of this land. And I joked that cheat meals were church. But the truth is this mount is their church. And it would be like building on their church. So I wanted to go get my boots on the ground there and speak with them directly and get a deep dive and form a dialogue with them. and then I realized. This is so much bigger than a telescope being built. It's for humanity theses are human beings who's hearts are hurting. And I think anytime situations like that come up, again this is like a microcosm of the bigger thing around the world, at least how I look at scenarios like this pop up.  When you have humans hurting any where around the world, lets stop, be considerate, let's be empathetic, and let's take care of our people. at the end of that it comes to taking care of the people. " Dwayne "The Rock" Johnson
Other notable celebrities speaking out on the cause:
J.Cole repping a Mauna Kea Hoodie
Rapper J. Cole spotted reppin' a Mauna Kea sweater at the NBA All Stars Game in Charlotte, North Carolina. 
Leonardo DiCaprio shares Mauna Kea artwork 
Bruno Mars
Jason Mamoa's Wife Lisa Bonet
Emilia Clark Khaleesi Game of Thrones Actress co star to Mamoa's Khal Drogo season 1 
Nathalie Emmanuel, one of Momoa's 'Game of Thrones' co-stars.

Actress Rosario Dawson
Jill Wagner Mamoa's Stargate Atlantis Co Star.

Jai Courtney Actor Known for role in Terminator and Divergent Series

Kelly Slater, Pro Surfer
Madison Bumgarner of the San Francisco Giants.
Ezra Miller, played flash in Justice League Co star to Jason Mamoa's Aquaman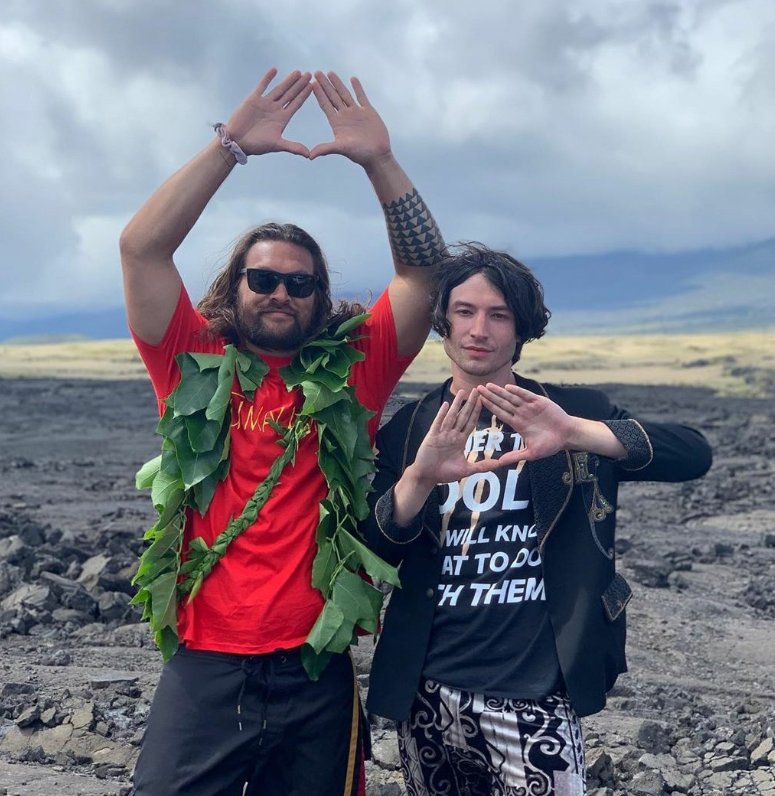 Updates David Ige 
In a move intended to de-escalate a standoff between scientists and native Hawaiians blocking the construction of a massive telescope on a mountaintop they believe to be sacred land, Gov. David Ige on Tuesday night rescinded an emergency proclamation that was issued to help remove demonstrators.  Hawaii Goerner David Ige Extends Thirty Meter Telescope Permit Amid Protests.
Ige made the announcement at a press conference saying there are no immediate plans to move heavy construction equipment onto Mauna Kea, the intended site of the Thirty Meter Telescope, which is expected to be the largest in the world, looking farther back into space and time than any other instrument is capable of doing.
Because #TMT construction is not imminent, I am withdrawing the emergency proclamation effective immediately. I remain committed to moving forward with this project in a peaceful way and will continue efforts to engage the community. https://t.co/5VVcEXMrGC #MaunaKea

— Governor David Ige (@GovHawaii) July 31, 2019
As an Artist to me this is everything I could ever hope for in my career because I could lose the money and materialistic things in the blink of an eye and as most of you know that did happen to me before and not only that tomorrow is promised to no one and if it was my time to go I would have no regrets and I find so much comfort in knowing my kids would see constant reminders of their Dad thru my designs and its my hope that it would inspire them to work hard and chase their dreams without making the mistakes I made.
I'm just an artist that creates things I can connect with and that make sense to me. Sometimes it's political sometimes it's comical and other times it might be both. This design was born out of necessity because I feel that it has a story a story of appreciation of culture, friendship and our precious resources and it's not just about a telescope anymore as many other levels of corruption have revealed themselves but it's about unity and the support from not just Hawaiians to other Hawaiians but support and compassion from everyone all over the world and the commonality of of being part of the same race as equals, The Human race.
Mauna Kea News & Updates
To learn more about what's happening please follow someone that is more knowledgeable then me and who can fill you in and update you on protocol and also donations to everyone up on the Mauna.
Vox also published an in-depth article on the topic:
Why Native Hawaiians are fighting to protect Mauna Kea from a telescope written by Vox Media.
For latest news updates:
Civil Beat has written great articles about Mauna Kea.
Instagram accounts to follow:
Follow @kahookahi @puuhuluhulu .
Also for those who ask me what my role is up there my answer is simple and honest "I have no role". I'm just another born and raised local boy from Hawaii that believes the system has been corrupted and broken for a long time now and it needs to come to an end. I'd also like to help protect and preserve what little we do have left. #mahalotheuniverse #compassion #grateful #maunakea #farmersmarkethawaii #brokenhardened
- Keoni Payton (@panikillers)
Hashtags to follow 
#nobetrayhawaii #hawaii #hawaiiviral#hawaiianviral #meanhawaii#hawaiijokes#hohungryhungryhawaiian #hawaiian#oahu #tmt #maunakea #hawaiigoviral#nobetray #kidbranz #maunakeas#kukiaimauna #wearemaunakea#mauna #maunakea #aoletmt#protectmauna #protectmaunakea#nobetrayhawaii #nobetray #oahu#hawaii #808viral#thirteenmetertelescope #hawai'i #mauna #savemaunakea #haha#trending #explorepage
Did we Miss a celebrity in support of the movement? Mention them down in the comments below.  👇
---
1 comment
---
---